Portfolio litigation & mass arbitration: overlooked business models for consumer protection attorneys?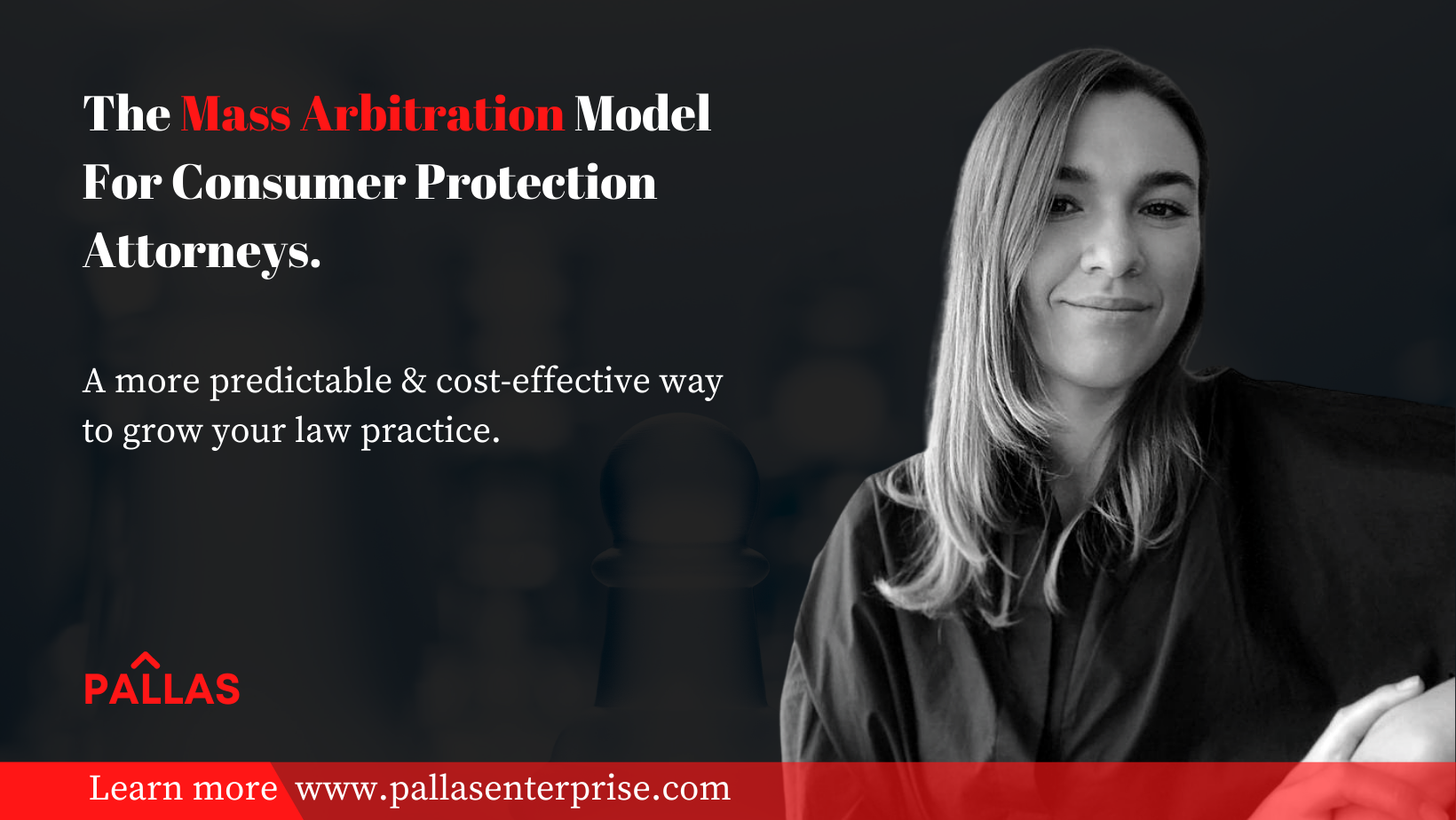 Uncategorized
May 23, 2021
Why mass arbitration? 
The mass arbitration model is an alternative to class actions: many companies use restrictive arbitration clauses in their terms and conditions to prevent customers from bringing cases on a class basis. Companies believe that any case brought as a class action will be forced into individual arbitration, therefore reducing the risk of any suit brought at all. However, in arbitration, the company is generally responsible for most of the fees, and the consumer needs to pay only a small fee which can be waived in certain states based on financial criteria.  
While the economic value of individual arbitration cases for plaintiff-side attorneys is generally lesser than the value of similar class action cases, reaching a global settlement in a larger group ("portfolio") of similar cases brought against one defendant can be equally or even more profitable.
Attorneys representing claimants are often required to file only a small number of cases from their portfolios in order to reach a global settlement, which makes portfolio dispute resolution accessible even for smaller-size firms with limited resources. 
Related: MASS ARBITRATION: THE ULTIMATE PAWN PROMOTION STRATEGY OF LEGAL CHESS?
THE PORTFOLIO MODEL PROVIDES FOR MORE PREDICTABILITY AND SUBSTANTIAL SAVINGS ON CASE ACQUISITION AND SETTLEMENT ENDS.
Fee-shifting in the mass arbitration model.
In arbitration, the company is generally responsible for most of the fees, and the consumer needs to pay only a small fee which may be waived. In the state of California, arbitration fees generally cannot be shifted back to the consumer even if the consumer loses.
Statutes to review:
California Code, Code of Civil Procedure – CCP § 1284.3
Fee shifting provision in AAA and JAMS consumer min. standards.
The mass arbitration model provides for a lowered entry barrier on case acquisition and litigation ends. 
 
When we look at mass tort case acquisition, we often see thousands of dollars spent per signed retainer. However, in mass arbitration, a cost of a case may vary from as low as $15 to as high as a few hundred dollars per case.
In class action litigation, the litigation cost and the amount of work that goes into class certification and motion work can be extraordinary. Plus, not every attorney may serve as a class counsel. However, in mass arbitration, the barrier is significantly lower. The dispute resolution forum is private, and the amount of motion work and discovery is limited. Arbitration is a relaxed forum comparing to the pressure of federal court litigation work.
IN ARBITRATION, SETTLEMENTS MAY OFTEN BE REACHED WITHIN MONTHS, WHILE CLASS ACTION OR MASS TORT SETTLEMENTS MAY TAKE YEARS.
What is the best way to start with the mass arbitration model and how to choose a "good" portfolio?
Companies that have arbitration provisions in their terms and conditions may choose not to enforce arbitration and allow a class-action lawsuit to proceed without challenging it on that ground.
Identifying such class action lawsuits and bringing mass arbitration cases against the same defendant may give attorneys a head start on legal and factual research and make it more likely that the portfolio will settle prior to or simultaneously with the class case.
Another important step is analyzing the language of a mandatory arbitration clause in terms and conditions for each specific potential defendant/ company.
Some of the questions to consider:
What company will be handling the arbitration: the filing fees and the procedure will depend on the arbitration company (most often JAMS or AAA);
What promises does the company (defendant) make in the arbitration clause? In some cases, companies take responsibility for all administrative and filing fees if a consumer claim doesn't exceed a certain amount. That means that they (the defendant) will face an economic choice: to either pay the arbitration fees or to simply pay the claimants – especially so if the requested amount is lesser than the cost of arbitration. 
Examples of our active mass arbitration and litigation portfolios:
Interested in learning more?
Our team at Pallas has helped attorneys
identify;
analyze;
generate, screen, and acquire;
manage thousands of mass arbitration cases against rideshare companies, video conferencing providers, hotels, and other corporations.
P.S. You may wonder how you would manage hundreds or thousands of claimants. We have the answer! Hint: it is not Clio or MyCase. Contact us to find out.
About the author:
Sofia Wadler is the fonder of Pallas Enterprise.
Before starting the agency, she worked as a marketing director for one of the largest consumer-protection law firms in the U.S. Academically, she holds a Russian and a U.S. law degree as well as a German legal studies certificate.
Sofia has founded Pallas with three principles in mind: 1. Efficiency. 2. Transparency. 3. Ethics. Her team provides marketing & automation services as well as competitor research insights that allow attorneys to grow their practices with unimaginable speed and efficiency.