Social Media for Law Firms: Why Facebook Boost Is a Trap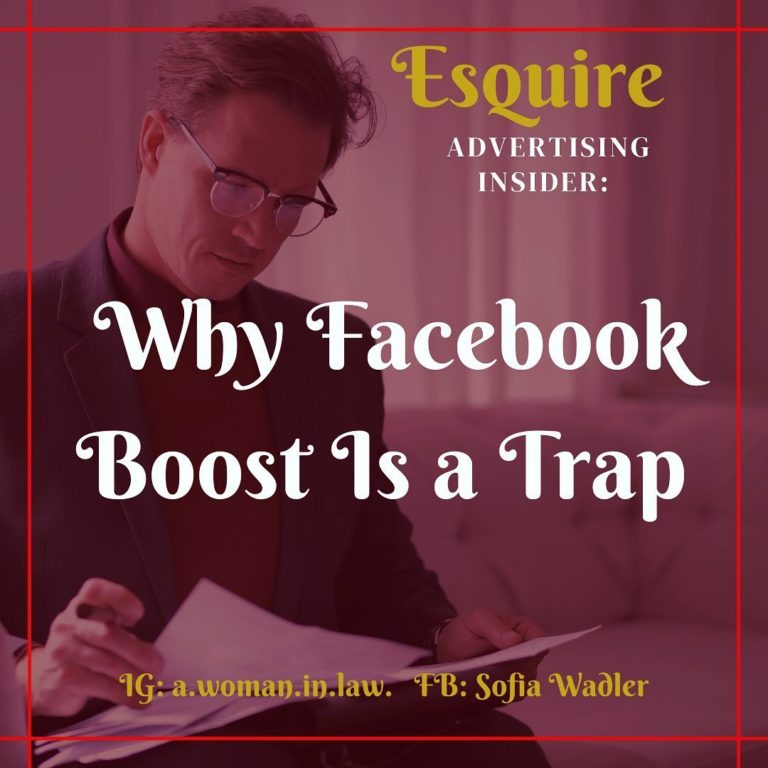 Esquire Insider
March 25, 2021
Anyone who has a Facebook page knows about a possibility to "boost" posts (i.e. paying FB to show posts to more people). This is a trap! Boosting posts is almost the same as DONATING money to Facebook… Why?
Think about it. We don't really want to just show our posts to others. In most cases, we want to engage people in a very particular way. Maybe we want them to give us their email address, or sign up for a specific case or law violation, or just remember our brand and call us in the future when they need a lawyer.
Facebook provides a solution for each of these goals. This solution is a Facebook business manager. It is a platform that is designed for creation, configuration, and testing of paid Facebook ads.
Ads set up in business manager are much(!) cheaper than "boosted" posts. It is a better, more effective, and more professional way to advertise on Facebook.
Last year, we conducted an experiment: we were promoting a wildfire town hall and set up an event promotion campaign via FB business manager. We then tested it against an identical post promoted via "boost." The difference in cost per town hall attendee was dramatic!
The bottom line: Facebook paid ads work and can be extremely effective. Using proper configuration in Business Manager and avoiding "Boosting" posts will save you money and produce much better results for your practice.
About Pallas Marketing Agency for Law Firms
Pallas is a marketing agency for ambitious and committed lawyers and law firm owners. The agency specializes in direct response social media campaigns and offers 1. ethical, 2. transparent, and 3. highly effective advertising options for lawyers. We deliver leads and clients in the following legal verticals:
Class Actions,
Mass Torts,
Consumer Law,
Plaintiff-side Employment Litigation,
Wildfire Cases,
Personal Injury Cases.
Contact us today to find out how we can help your law practice grow.